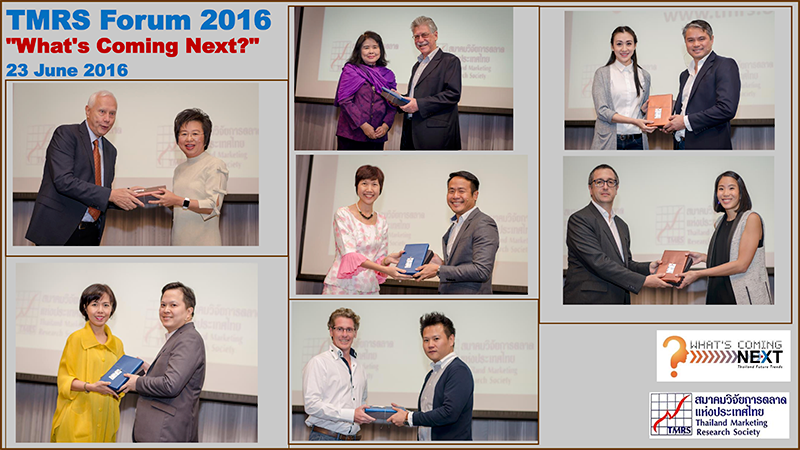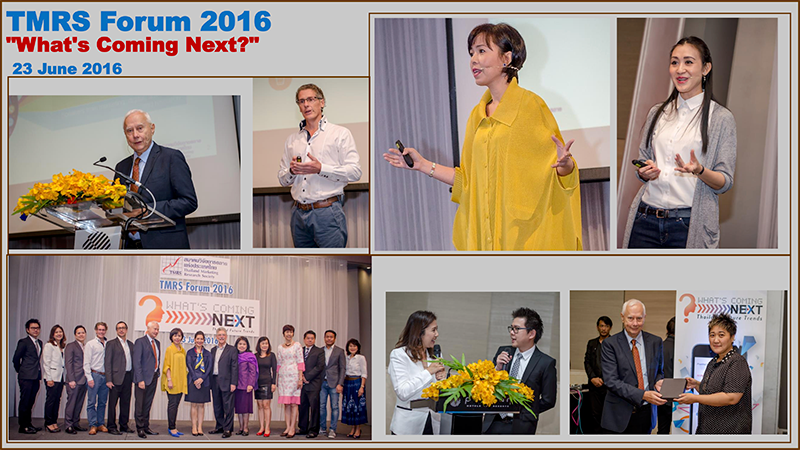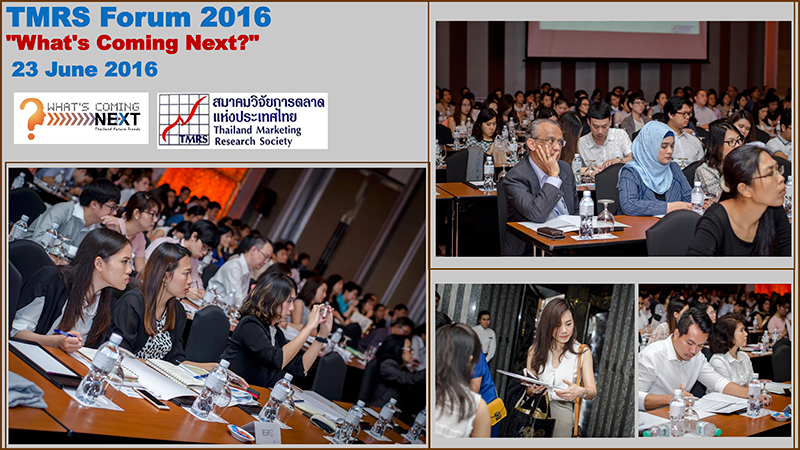 Download - Next Gen Values File
Download - What NEXT strategies File
TMRS FORUM 2016 "WHAT IS COMING NEXT?"
This year TMRS has decided to focus on the changes that are affecting international and Thai markets and societies in order to identify how marketers, advertisers and researchers can adapt to these changes and take advantage of them.
For this reason we have selected the overall theme of "What's Happens Next" for this year's TMRS conference on June 23th 2016 at PULLMAN BANGKOK GRANDE SUKHUMVIT from 09.00 - 17.00 to share perspectives on what changes can we expect and how this impacts the way in which we live.
This would be a one day event bringing together 300+ marketing, market research, advertising media industry.
To identify future trends we will focus on a few groups that will contribute to define the future of Thailand.
First is the Next Generation- the so called Generation Y and Millenials- that has grown up in an increasingly connected world which is challenging existing marketing paridigms.
We will also look at the seniors. 9 Millions Thais are above 60 years old. This is the highest proportion in SEA after Singapore. Thailand should become officially an aging country in 2018. How to connect with them?
Another strategic group is the emerging middle class. There are several definitions of this group but everyone agrees that the emerging middle class is growing and is a strong force in driving consumption in Thailand.
For each of those groups we will discuss
What emerging insights do we have about this group? How can we better research and understand this group?
How are values and attitudes changing? What are the implications for brands?
Have the rules of market segmentation changed?
How can we better reach this group?
How can brands better engage with this group?
A prestigious list of speakers
The list of speakers will include top managers from FMCG companies, key players from the digital world, advertisers and researchers:
Mr.Ron Gailey, Director, Consumer & Commercial Insights at Coca-Cola Pacific
Khun Wisut Ua-anant, AVP - Online Channel Management of AIS
Khun Siwat Chawareewong, Vice President - Digital Advertising Association (Thailand)
Khun Supattra Paopiamsap, CEO, Unilever
Khun Napatra Charassuvichakanich, Head of Business strategy, Google
Khun Oliver Veerataecha, Chief Strategy and Innovation Officer - Y&R
Mr.Nam Do, Commercial Director of Corporate Business, LINE THAILAND
Exclusive research specifically conducted by TMRS for the event
TMRS will design and carry out a unique survey for the event.
The research will focus on the key groups defined through life stages and will include questions on:
Views of the future
Key changes affecting life
How do they prepare themselves for the future?
Changes in values: what are the important values for the future?
Impact of digital/technology on different areas of life
The total sample will be N=1000 and the data will be collected through mobile phone.
Results will be presented during the event.